>> Thursday, 8 October 2009
Last Saturday we put on Wales first ever alleycat race, it was a great success. 21 Riders from Swansea, Cardiff, Newport, Bristol, London and Manchester braved the gale force winds and threat of torrential rain during the 15+ mile course.
Everyone took off from the dock area of the city centre and hit up 5 libraries where they got books that they brought with them signed, Swansea is pretty hilly so there were no easy routes, at some point you had to go up some big hills before coming back down the other side. Riders split into two parts, those that wanted to get the hills out of the way first and those that wanted the 'time trial' section over and done with asap, those that took on the hills had their wills broken by the wind pretty bloody quickly, I was in that group and within minutes was thinking that we'd made a pretty bad decision, haha. An hour after taking off the racers started trickling in, everyone was knackered, in the video you'll see how many people were so tired that they couldn't get out of their peddles fast enough and just fall flat on their faces. I took first place (whoop!) followed by Aled and then Alex from Manchester (who had gone about 2 miles out of his way by accident and would have won by a mile).
When all 21 troopers were back and had been to Sainsbury's for pop and crisps (and where I got I.D'd buying a scratchcard, I'm 28!) we cracked on with the trackstand comp, with thighs not being quite as fresh as one would like it proved to be a rather wibbly-wobbly affair, more like a trackstand jelly impression comp really. We did 3 minutes standard, 2 minutes one-handed and then no-handed until we had a winner in Aled.
The longest skid comp closed the days events. I managed to dive off my bike like a pansy and bust a rib which is killing me right at this very second, the highlight for me was David Clapp from Bristol skidding out of his clips and with only 1 foot at times, mental. Owen managed to somehow stay out of the water no matter how much his bike wanted to fling him in there. Alex flew into first place.
Just as it started to piss down we headed off to a couple of pubs for drinks and the prize giving. Prizes from Bike Food, Cantgoslo, Charlie The Bikemonger, Cyclodelic, 14 Bike Co, Halo, Hell Yeah!, Howies, Hub Jub, Hunting Lodge, JOL Straps, Knog, Prendas, Re-Cycle, Skullcandy, Solder Gal, Tokyo Fixed Gear, Urban Hunter and Velo Solo were dished out to the relevant champions and as about half the riders had gone home by this point it turned out there were enough t-shirts in the prize kitty for everyone to have one to take home, as well as shit loads of stickers and some other bits and pieces on a first grab basis. I think everyone was chuffed that they got some goodies no matter where they placed, it really was the taking part that counted. Everyone had a great day and it was really nice for us locals to get to ride with so many people from out of town, we really appreciate your effort in coming over the bridge for the day and we all look forward to riding with you again soon...
Race
1st Ty
2nd Aled
3rd Alex
4th Jason Beynon
5th Sion
6th Scott Pullins
7th JT
8th Kerry Pillai
9th Owen Pillai
10th Steven Owen
11th Osian Meilyr
12th Yohei
13th Cab
14th Dave Clapp
15th Chris Punk
16th Tim Moshi
17th Tim
18th Adam Haycroft
19th Damien
20th Grayme
DFL Jason Veall
Track Stand
1st Aled
Longest Skid
1st Alex
2nd Owen Pillai
-
Yohei's ingenius bottle holder
-

Team Bristol arrive at the start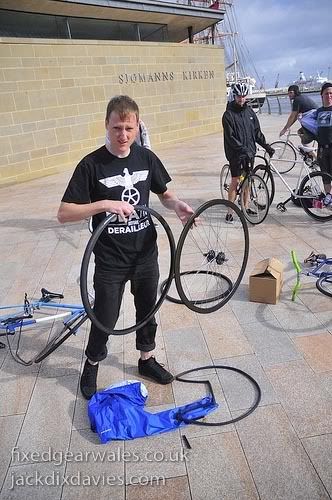 A last minute tyre change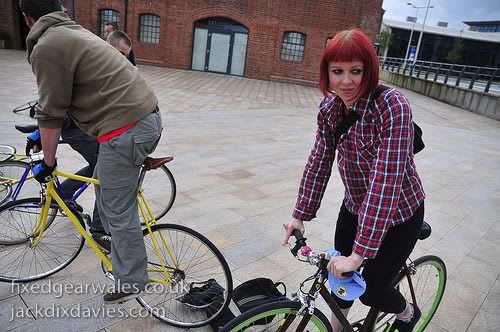 Eyes on the prize...

Everyone gets their map

Busy at work finalising routes

Some final discussion

Scott WALKING up a hill, tut tut!
Grrrrrr!

Owen taking 2nd place in the skid comp

One of David's no-toe clip skids, wild!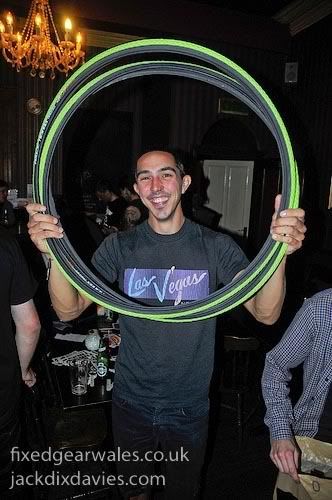 Alex 3rd place (1st out of towner, 1st skid)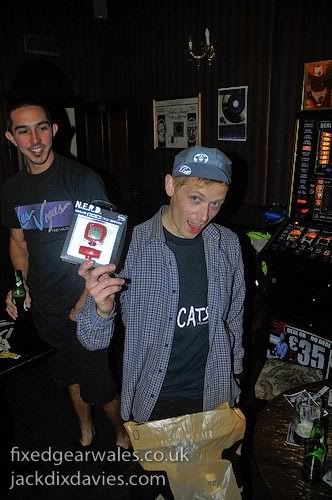 Aled 2nd place (1st trackstand)
Ty 1st place
Yohei is overwhelmed by Wales

Uhhhhhh

Bookworm Alleycat cha-mone!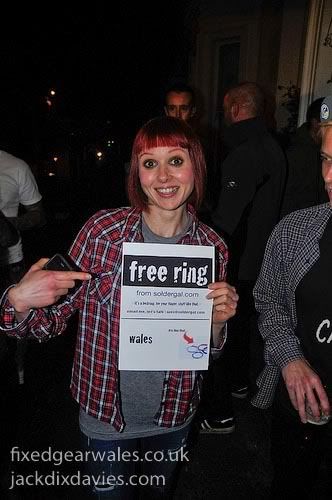 Kerry, 1st and only girl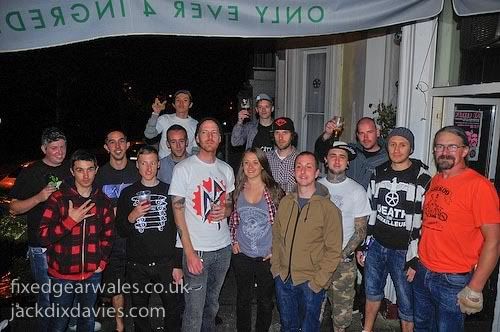 Half the gang stayed for beers
-
Video by John Fisher (More)
Swansea Bookworm Alleycat 03.10.09 HD 720p from progressive media on Vimeo.
Video is also on YouTube.
-
A big shout out to Jono & Jack for shooting photos and John for the awesome video. Thanks to Ev, Sion, Amy and Owen for help with the organising. Cheers to Tom, Nigel, Jack and Amy for working the checkpoints and Ev for doing the start/end duty.
The last thing for me to do is pimp our awesome sponsors, pretty pretty please click on the adverts below cause they were all very generous and deserve to be supported, thanks a lot guys and gals, we love ya!
-
But wait, there's more! We have a few very limited edition Bookworm Alleycat t-shirts left, if you wanna buy one it will cost you a measly £10 (free UK postage). Just send us a message using the contact button over there>