>> Tuesday, 4 August 2009
On Saturday Kerry, Owen and me hit the Gower for a 35 mile ride or as I call it "the 35 mile vodka sweat-out torture session", actually it wasn't that bad, ha.
We started out from Kerry and Owen's pad in Gowerton after he had emptied her bag of the full set of spare clothes, bath towel and the kitchen sink, it was a really cool ride, lots of little but long hills to get the blood pumping and a couple of scary hill bombs including one where I gave up trying to skid and just went hell for leather instead which was both awesome and probably safer. We headed for Rhosilli, which is waaaaaay over towards the end of the Gower and a really beautiful spot, I found out that they fry their chips separately from any fish and shit so I went wild and gobbled down a full feast (see pic) which I was sure would be for the best but judging by the wall I hit on the hill back up and out of the area I'm not so sure now, It's a pretty bad feeling when you can barely turn your peddles innit. We were only nearly half way at this point so there was no point in feeling sorry for myself and I soldiered on.
I think I have run out of story, it wasn't the most exciting trip ever but it was great; the real story is that Kerry is planning a 60 mile round trip to Kidwelly this weekend which is gonna be a real killer but seeing as I'm 'never drinking again' at least my sweat will smell like roses and not like Smirnoff this time, ding ding!
Kerry fingering her sensitive eyes and me trying to work out which part I'm meant to sit on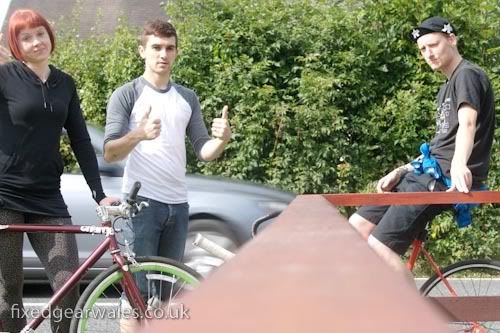 The "shall we go left or straight on?" meeting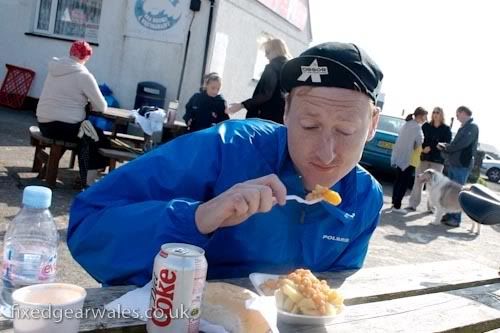 Me gobbling up chips and beans with a bap and some pop

Kerry with her health food, clearly green with envy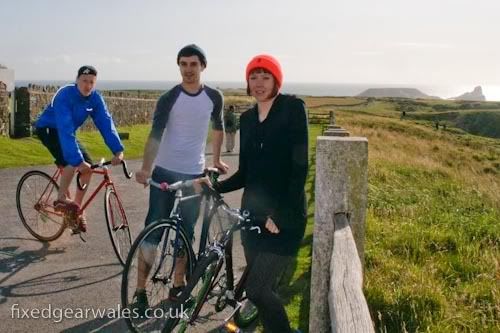 The whole gang posing in front of Worms Head