>> Sunday, 16 August 2009
This is a week late, I've been busy organising alleycat stuff, so instead of blabbing on for ages it'll be mostly photos with captions. Exposition: Kerry, Owen and me (the one and only Ty) are trying to cycle further and further each week in preperation for cycling to Paris next year. This trip was 47 miles (53 for me), we took in Gorseinon, Llanelli, Pembrey, Burry Port and Kidwelly...
Owen had spotted some bike parts in the window of an old shop in Gorseinon so we went there first, we were shocked to find a Penny Farthing hung from the ceiling and loads of really old Raleigh signs on the walls. We spoke to the dude there for a while, he was as deaf as a door post but judging by this it will be worth going back for a longer chat!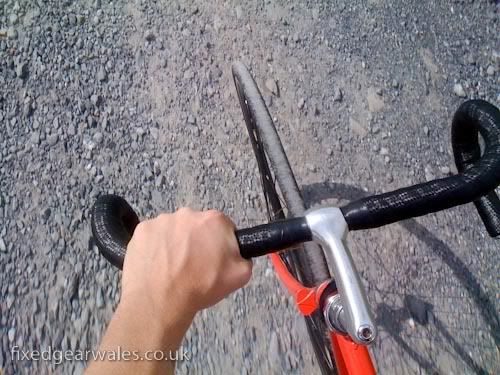 We hit the Millennium Coastal Path, I'm not sure which part of 'cycle track' they don't understand but most of this thing is gravel, the nice parts are really nice but riding 700x23's on a gritty track is not ideal.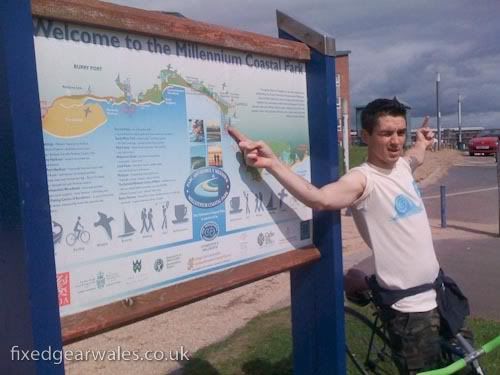 This very use(less)ful map (didn't) showed us exactly where we'd been and exactly where we were going, Owen tried explaining to me with the aid of, and I quote, the "gun show", he's very helpful like that. Just after this I busted a textbook backward circle and an old dude on a road bike in all the gear stopped and clearly wanted to talk to us, he didn't though.

Burry Port has the absolute worst example of a skate park that I have ever seen and I have seen a lot of shit skate parks, unfortunately the useless bastards at Swansea council won't even cough up for an embarrassment like this!
Kerry was off like a rocket at times, later on in the day I spotted a slow worm on the path, said it was a snake and she did a great bit of classic Merckx acceleration, haha, GIRLS!


Amelia Earhart landed in Burry port after flying over the Atlantic way back when, there is a plaque commemorating her journey and this classic small town sign showing just how far away it really is from anything exciting.

We got to Kidwelly Castle, it was quite expensive to get in to so we just sat on a bench debating whether we wanted to hit the massive 12 or so mountain miles to Carmarthen, we decided it was too late to go any further. A classic Chevy Chase style American car pulled into the car park and this dude got out wearing sandals, a t-shirt and the brightest damned Speedo's ever, they were maybe even older than the castle.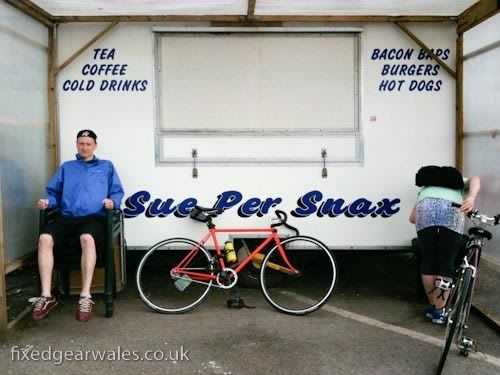 First stop on the journey back was the Co-Op, in the car park we very much enjoyed looking at "Sue Per Snax", a crappy burger bar whose name is only topped by "Wots Cookin' To" in Clydach Market. For this picture my art direction was "you look in the bin and I will sit here like a king on a throne", I think Owen captured my vision perfectly.
This is where things got weird, we were about to find that the gravel track was quite a luxury earlier on. Cycle Route 4 goes through some private farm land in the Pembrey area, we had lost our way earlier and ended up on the road but this time we were determined to take the path. I've not been on a cycle path before where you have to descend a set of steps, go through a secure gate and come face to face with a herd of bloodthirsty cows. Me and Owen though that the "path" went right around the herd so we decided to have a race on the bovine velodrome, half way round we came up against a hurdle, namely a great big pool of slurry composed of shit and water, we turned around and raced back, our spirits and dreams shattered.



This cow was freaking Kerry out so we had to leave, there is something far more scary about a single cow than a whole load of the buggers don't you think?

Now this may look idilic but we were concerned about rapists and murderers at this point, we felt like we were in the middle of nowhere, we hadn't seen another human for a long time and all 3 of out iPhones were refusing to find the network. We kept going for what seemed like yonks, then the "SNAKE!" incident happened, Me and Owen took off in pursuit of a shaken but not stired Kerry...

...Something was wrong, gravel seemed badly thought out, steps and cows was a bit mental but an uphill stretch of 'cycle path' made out of sand was something else...

...Then the inevitable happened, we were on the beach...

Again the iPhones we hating us...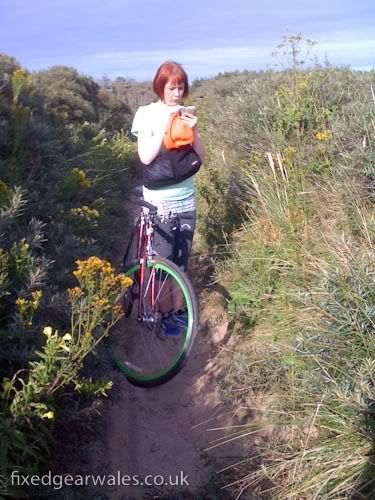 Even the 3Gs could not save us now!

So we just had to turn around and go back, at a crossroads we went right on to another gravel track and into the woods, we were sure this was Pembrey Country Park so all was well at last, we even started pulling some skidz.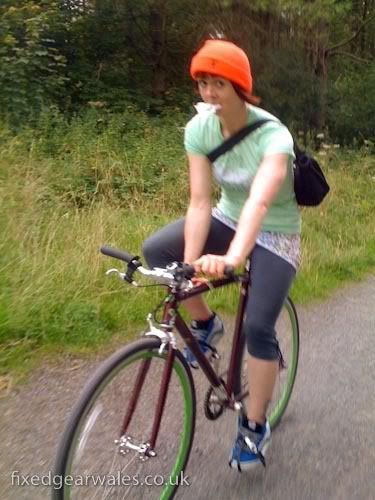 Kerry's Charge Plug has been ringing, we had thought it was her bell but it turned out that all along it had been her back brake cable (she rides singlespeed cause she is a big girls blouse, ha!) pinging against the frame, luckily girls are an inventive, multitasking, weird bunch of people so she had a plan...

...Stick it down with a brightly coloured plaster, sweeeeet.
Back in Burry Port the bunting, brass band and general buzz across the water attracted us, we went over there to find the end of a fishing competition. Any other vegan would have walked away in disgust but not me, I love animals so much that seeing a squashed squirrel is as good as seeing a bear and seeing a big dead fish is better than seeing no fish so I had a quick look, made a few "I can smell fish, close your legs, love" jokes to myself then we headed off on the final stretch. The wind was behind us at last and we flew the last however many miles. The End.