>> Thursday, 26 March 2009
...my worn dropouts!

My chain has gone really lose and come off THREE times since Chrimbo, it's been driving me nuts and I've just been waiting for it to happen as I'm flying towards a red light. I went into Schmoos today to check out what they had in the way of botchable chaintugs but ended up buying a bangin' set of Schwalbe Stelvio tyres which have completed my bikes transition from "gay hipster chic" to "BLACK!"

When changing the tyres I decided to sand all the paint off the dropouts in the hope that it would stop the back wheel from slipping and discovered that they were pretty badly worn which may explain why the wheel keeps shifting. I'm assuming that they are badly worn at least, maybe it's normal. Anyway I need to start seriously thinking about whether to track down a nice old road frame or buy a new track frame...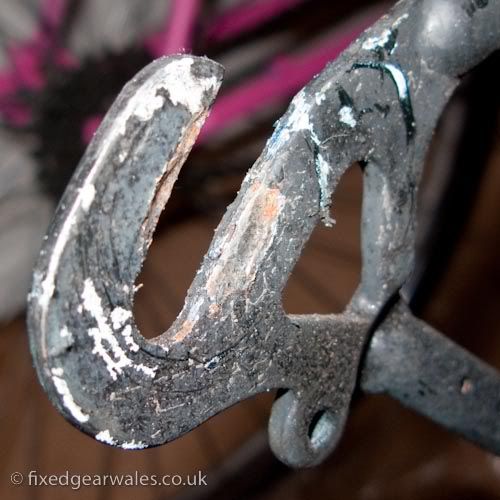 Normal?


Surely not!?!
Now go and check this out.